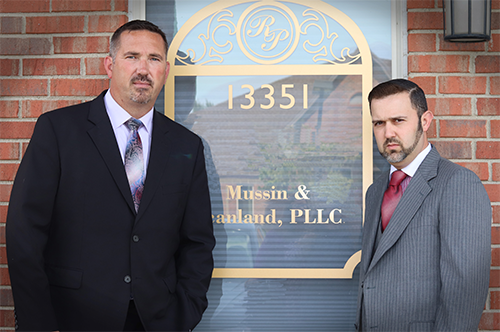 Comprehensive Legal Support You Can Trust
Our legal team has a well-deserved reputation of excellence in providing smart, sensible, and cost-effective legal and business solutions for our clients.
Often, more than one area of expertise is required with any area of law. With our firm, there's no need to hire a multitude of attorneys. We can advocate for you in many areas of law.
We serve a wide range of clientele throughout Michigan, and every client relationship is valued greatly and treated with dignity and respect.
Each of our clients benefits from the depth and breadth of our expertise. Here, you're not just another case number. We treat every client's legal matter as if it is our only legal matter.
Committed to Our Clients
We Remember Who We Serve ​
Mussin & Scanland, PLLC was built on a core set of values that guides us in our relationships with our clients, our interactions with each other, and our connection to the communities in which we serve. These values have a real and lasting impact on the way we conduct our business, the way we treat our clients and colleagues, and the way we go about growing our firm. We believe these values come into play in each and every client experience and are essential to the ultimate success of our lawyers and our firm.
You Can Count on More
With Mussin & Scanland, PLLC, you can count on more. We provide practical counsel with an entrepreneurial spirit, offering innovative ideas, technologies, and solutions. We deliver value through high quality and a collaborative team approach.
Relationships fuel our firm. Respect is the foundation of our strong relationships with clients and colleagues. We are tenacious advocates for our clients while being approachable and supportive.
Everyone Matters
Everyone matters. We value the contributions of each individual in our firm and encourage fresh ideas and diverse perspectives. We embrace the differences in our colleagues, enriching our experience.